Why War? A Plea for Peace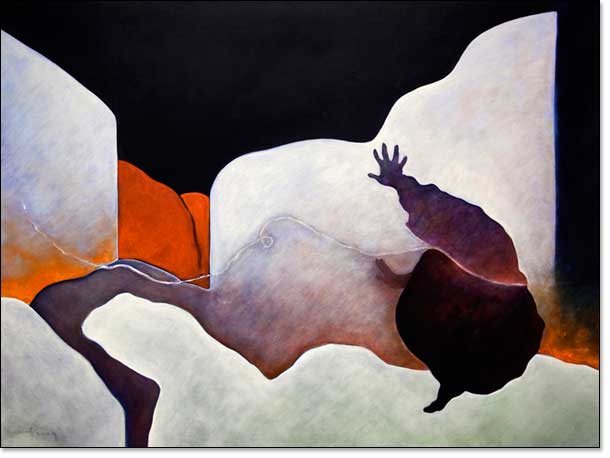 Mimi Chen Ting, A Plea for Compassion.
36 x 48, acrylic on canvas, 1991.
© 2010 Mimi Chen Ting and ARSNY.
SLEEPLESS OVER BOMBING OF BAGHDAD
3 a.m., EST, January 17, 1991
If there is life
on other planets,
if some creature
on night watch
somewhere out there
in the vast vault of heaven
should happen
to incline its ear
towards the Milky Way,
a sound will catch
in its receiver
as if in a throat,
a sound that will traverse
the universe for years.
Because the creature is intelligent,
it will pity what it hears
torn out of a tiny solar system—
the anguished howl,
the long wail,
the unrelenting lament
gone up again from planet Earth.
- STK

The Ledger, Cross River, New York
Published January 23, 1991
Articles
In his memoir Disloyal, Michael Cohen, the former attorney who was President Donald J. Trump's special counsel from 2017-2018, tells us that "like a crime boss, Trump wanted no evidence that could connect him to any of his deeds, or deeds that he indirectly or directly ordered other to do." ...
Read More...
Letters
As the StarNews has previously reported, for over forty years DuPont and its spinoff, the Chemours Company, have been discharging the residue of such products as Teflon in the form of GenX and other per- and polyfluoroalkyls (PFAS) with their adverse health effects into the Cape Fear River, the drinking water of Wilmington and ...
Read more...
For the past twenty-five years, I have followed the U.S.-led wars in Iraq. They hit a special nerve because I was born and formed in Basra, Iraq, of an Iraqi father and an American mother from southwest Missouri whose forebears pioneered America. I am first cousin six times removed of Davy Crockett, which makes me about as Texan as the Bush presidents.
A former copywriter for Life magazine, I have had poems published in Schuylkill Valley Journal, Horsefly, the Literary Cupboard, Venture, and two anthologies published by the New School. I have marched in numerous anti-nuclear and anti-war protests in New York City and Washington, D.C. My essay "U.S. First to Target [Operating] Nuclear Reactor" that appears in Metal of Dishonor, Depleted Uranium can be found in the Articles section of my website. I served as co-chair of the Northeast Westchester branch of the national anti-nuclear organization SANE/Freeze, the predecessor of Peace Action.
My hope is that one day people will recognize that a leader taking his (or her) nation to war is as dysfunctional in the family of humankind as an abusive parent is in an individual family. Believing violence begins at home, I have studied the childhoods of the warring Bush presidents as well as what they have in common with the people who supported them. I devoted my Master's thesis to "George Bush, the Formative Years, 1924-1942" (Manhattanville College, Purchase, New York, 1994). The results of an independent study I completed towards my M.A. in the Humanities-What the Gulf War Reveals About George Bush's Childhood" --was published in The Journal of Psychohistory and appears in the Articles section of my website.
How can I have clarity about war or about anything else for that matter if I have not faced the truth of my own life? At the time of starting my graduate degree, with a gifted therapist, I was also in the middle of what turned out to be a privileged six-year psychoanalytic look at myself, a version of which would have been required to liberate the psyche of anyone wanting to become a therapist, a career I considered. But writing is what I do best.
Facing my truth is the goal of my book entitled Little Tin Heart, A Memoir.