Why War? A Plea for Peace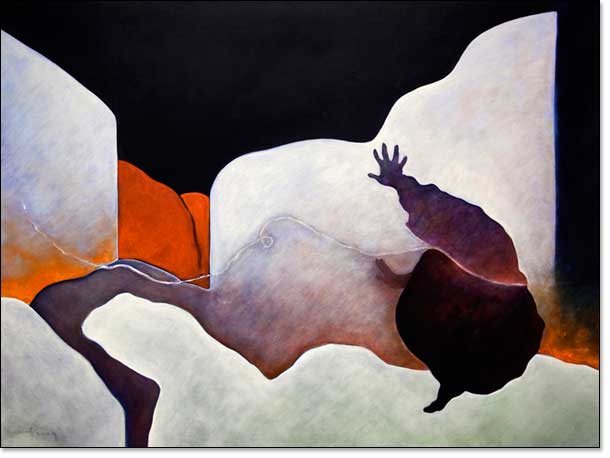 Mimi Chen Ting, A Plea for Compassion.
36 x 48, acrylic on canvas, 1991.
© 2010 Mimi Chen Ting and ARSNY.
SLEEPLESS OVER BOMBING OF BAGHDAD
3 a.m., EST, January 17, 1991
If there is life
on other planets,
if some creature
on night watch
somewhere out there
in the vast vault of heaven
should happen
to incline its ear
towards the Milky Way,
a sound will catch
in its receiver
as if in a throat,
a sound that will traverse
the universe for years.
Because the creature is intelligent,
it will pity what it hears
torn out of a tiny solar system—
the anguished howl,
the long wail,
the unrelenting lament
gone up again from planet Earth.
- STK

The Ledger, Cross River, New York
Published January 23, 1991
Articles
The twenty-seven prominent psychiatrists and mental health experts who contribute essays to the book "The Dangerous Case of Donald Trump" edited by Bandy X. Lee, MD, MDIV, are fully aware of the prohibition called the "Goldwater rule" but seem to have found a way around it.
The "Goldwater ...
Read More...
Letters
The Cape Fear Public Utilitiy Authority (CFPUA) included a letter from Jim Flechtner, its executive director, in its latest bill. His opening paragraph is admirably up-front in admitting that the Sweeney Water Treatmen Plant, as the StarNews has also reported, is currently unable to remove the per-fluorinated compounds (PFAS) including ...
Read more...